Impeachment flap inspires protests, petitions
Here is the KC Star's take on our university's latest political brouhaha. I was there last night and watched the majority of the UMKC student Senate embarrass itself, plain and simple. If anyone would like to hear my account of the night's events and opinion about it all, please let me know. I'd be happy to sit down and have a conversation with you.
MARÁ ROSE WILLIAMS, THE KANSAS CITY STAR - The University of Missouri-Kansas City student Senate on Wednesday night met in a crowded public session to follow through on the recent impeachment of top student leaders. In an apparent battle over a $70,000 student activities account, student senators voted two weeks ago to impeach the student body president, Marcus Leach, and executive vice president, Sofya Galich.
In a countermove Wednesday night, two student organizations sought to petition for the immediate reinstatement of the executive officers and the removal of senators who they believe led the impeachment effort.
A crowd packed a meeting room at the University Center before the session was moved to Pierson Auditorium to accommodate the turnout. Supporters of Leach and Galich held signs saying "We Want the President We Voted For."
After some four hours of discussion, the Senate decided it could hold a trial on just one of the five articles of impeachment originally passed. Senators set about that task as midnight approached.
University administrators said as far as they know this is the first time that a UMKC student body president has been impeached.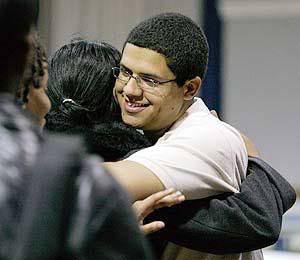 Some students who support reinstating the president and vice president have called the impeachment "ridiculous."
Leach, who is black, said in an interview Wednesday afternoon he was "appalled" by the behavior of the senators and said people were doing things that could be considered racially motivated.
"This is the most humiliating experience of my life," Leach said, "but I'm not going to back down from it. I know I can sleep because I've done everything right."
Kevin Lujin, the senate president pro tem, who is a leader of the impeachment effort, said Wednesday night that suggestions of racial motives were "absolutely untrue. It is about making sure both executives fulfill their duties."
Earlier Wednesday, Lujin said: "In the eyes of the Senate, neither one of them were doing their job. I think the Senate was worried that the operating account was being used to grant political favors."
University administrators said they had seen no evidence of favoritism by Leach or his executive board.
"I think this whole thing is about the senate not trusting the … executive board and a major difference of opinion of how student government should run," said Mel Tyler, associate vice chancellor of student affairs.
Tyler said Leach is a member of the student Democrat group and Lujin is a member of the student Republican group.
The article of impeachment that went to trial Wednesday night deals with an alleged failure to attend required meetings.
Other articles of impeachment approved by the 32-member Senate said Leach continued to receive a salary after senators had voted to freeze it because of alleged poor job performance. Leach is paid $5,250 a year.
Another charge was that Leach allocated an unspecified amount to Tent State University, a student group, to pay for former Black Panther member Bobby Seale to visit the university, and spent nearly $1,000 for a bus and tickets to get members of a university basketball fan club, the Roo Crew, to a game.
The Student Life Office director, Zauyah Waite, said Leach had the necessary approval from the executive body and her office to spend the money.
"Traditionally (student government) has not gotten Senate approval on spending," Waite said.
She also said the Senate's attempt to freeze the salaries was turned down by the vice chancellor and never went into effect.
Students collected more than the 400 signatures on petitions seeking to block the impeachment. A second petition called for the removal of senators.
The petitions had yet to be presented to the Senate as the impeachment trial got under way late Wednesday.
If the petitions effort proves successful, a campuswide referendum ultimately could decide whether Leach stays in office.