KC, Welcome Your New Team
Today, the Arena Football League (AFL) is set for its 20th season — the longest run for a football league this side of the NFL — has a national television contract with NBC and is fighting its way into the country's sports mainstream. EA Sports is set to release the first AFL video game next month.
The expansion
Kansas City Brigade
will take the field today when they visit the Dallas Desperados at 2 p.m. in their first-ever game.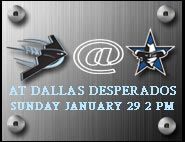 Some articles from the
Kansas City Star:
AFL's Quirks Might Surprise Some Fans
AFL 101
AFL Team Capsules
Profile of QB Andy Kelly